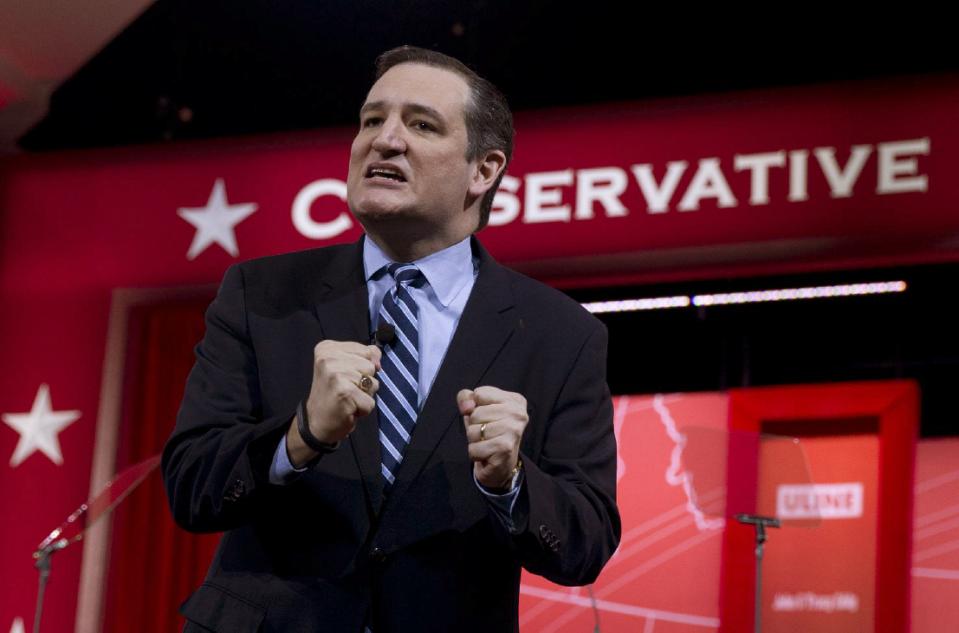 Republican Sen. Ted Cruz of Texas used a speech at the Conservative Political Action Conference on Thursday to rail against the party establishment, calling himself a "disruptive app" such as Uber that would upend the political system. Delighting the assembled conservative shock troops, Cruz castigated the Republican leadership for selling out its principles by separating a funding bill for the Department of Homeland Security from a measure that would roll back President Barack Obama's executive action on immigration.
Opinion:
Express 
He should not get his hopes up. As badly as the rest of the nation hates Obama and his administration actions, he is not well liked either . People do not want him or other retreads from the democratic party or the republican party to be president. This nation is looking for complete change. We do not want government gobbling up peoples freedoms. We do not want socialization of industry and government suffocating our citizens. We do not want a party that rewards the minorities and punishes the majority any longer. We also do not want a party that wants to breed war or spend huge amounts on a military budget and penalizes the elderly, homeless and poor.
We do not want a party that sees monopolies as good for the economy or big business set regulation that forces small business from start ups. The opinion of America is we need huge change in the political arena. We also want leadership that is not going to cowboy up and set their own laws even when they directly violate laws already passed. We do not want to support illegals draining our state and federal finances, but do we expect them to stand up and start deporting or penalizing illegals for breaking our laws. While he has things going for him such as being a Republican he still misses on the majority of needs this country wants and needs. Time to move on and find an honest candidate from an honest party that wants to usher in a time of reversal on the past bad policies . There is no sense in compromising to get a half a candidate. lets shoot for the whole ball of wax this time.