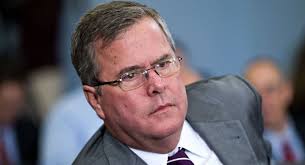 The presumed Republican presidential candidate announced Tuesday that he'd be releasing an e-book illustrating his time as Florida governor through eight years worth of personal emails with staffers and constituents. In addition to a "sneak peek" at the e-book's first chapter, the entire email archives from Bush's two gubernatorial terms were made available to the public on his website — "in the spirit of transparency."
Views:
John
People look at the last few decades and what our choices were for a president of The United States. Aren't they more similar to slick used car salespeople? We been given slick professional politicians who make campaign promises to get our votes, and hardly if ever keep those promises. What we get instead are people reading prepared statements, reading teleprompter cue cards and using rehearsed facial expressions, and these are our leaders. Please help our country and voice your support for David Petraeus. Yes he was involved in an extramarital affair, but he came clean about it and didn't use a staff of professional spin control liars. There was no "cigar gate" lying which now we hear was a complete lie from Bill Clinton. We deserve better and I guarantee David Petraeus would represent our country well.
tom
The blame game as invented to take the voters eyes off the issues. Two parties blaming each other. If I don't win this time I'll win next time or the time after that because people get tired of the same food all the time. Dodgeball with you and me in the middle. Sheep keep handing the ball to the other side to be hit by them. When both sides are the same the only real WASTED vote is a vote for more of the same. The same bs over and over again and people still believe it. So who's the idiot ? The candidate or the voter ?
Rational Monkey
House of Bush, House of Saud: The Secret Relationship Between the World's Two Most Powerful Dynasties is a 2004 book by Craig Unger that explores the relationship between the Saudi Royal Family and the Bush extended political family. Unger asserts that the groundwork for today's terrorist movements and the modern wars that have sprung up about them was unintentionally laid more than 30 years ago with a series of business deals between the ruling Saudis and the powerful Bush family. The Saudis received investments and military protection in exchange for cooperation on lucrative oil deals. The author claims that the result has been a shady alliance between "the world's two most powerful dynasties." Unger writes, "Never before has an American president been so closely tied to a foreign power that harbors and supports our country's mortal enemies."